There is one regular user on DealDash who appears to bid on nearly everything, and usually wins. He is UncleTan and he has won literally millions of dollars worth of auctions.
Since this site has a great deal of historical auction data, it's easy for me to go back and analyze how UncleTan has become the best DealDash bidder, by a large margin.
First, some statistics.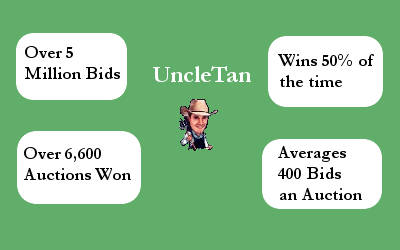 UncleTan Wins half of all auctions he participates in. Which is impressive considering he doesn't put down that many bids on each auction. He's also won well over 6,600 times. Actually, probably quite a lot more. I only have statistics going back a year or so and he has been bidding since 2012.
You can see all this information and his recently won auctions on UncleTan user statistics page, but I wanted to dig deeper to really figure out what sets him apart.
First, I tried to figure out what he is doing with his winnings. Either he has a warehouse full of crap he won or he's selling the thousands of products he's winning.
I searched on ebay and google for anyone selling any DealDash specific merchandise. Bolvaint, Wilcott Weaves, and Kamikoto are some of the UncleTan's favorite brands and are generally only purchased new from DealDash. I found very little. no one is selling these products at the scale required based on how quickly he is winning them.
There is a third option, one which has an insane implication.
He is exchanging every one of his winning auctions for more bids.
Every time you win an auction on DealDash, you have two weeks to either pay the auction price or exchange the item for bids. The bids are typically the Buy It Now Dollar amount but can be slightly less depending on how DealDash calculates a fair ratio.

This is one of the ways to get free bids from DealDash. The question is if UncleTan can use this method to perpetually receive free bids. To do this we have to compare the number of bids UncleTan is putting down with the Buy It Now prices of the auctions he is winning. This will give a good estimate to see if he is consistently able to win auctions by putting down less bids than the Buy-It-Now's dollar amount.
For example, if he could win a watch with a $100 Buy It Now price with only 50 bids then he could exchange it for bids and end up with 50 MORE bids than before he entered the auction.
I looked at the last 1000 auctions UncleTan has participated in and added up all the bids he made and the cumulative sum of the Buy It Now Price for each auction he won.

Total Bids Made: 580,708
Sum of Buy It Now Prices: $967,699

It's as I expected. UncleTan is consistently winning auctions by 60% of the Buy It Now price. This means on average he can win an auction with 60 bids and exchange it for 100. He has an infinite free bid generation machine.
How does he do this?
I think there are a couple factors that help UncleTan win by placing less bids than anyone else.
First he chooses his auctions carefully: Often he will pick auctions with the largest margin between the average auction selling price and the buy it now price. Lately he's been heavily hitting the various Wilcott Weaves rugs, each has a Buy It Now price in the thousands and frequently has an ending auction price of $20 or less. Finding smart auctions like this makes it easier to receive more free bids than you send out.
Secondly, UncleTan has a reputation on DealDash. Anyone who's spent a small amount of time on DealDash.com knows that he is a high roller. If you're in an auction against only him there's a very good chance you are going to lose. Often he will bid far more for an item than it is worth. This dissuades anyone from joining the auction if they see he is bidding in it, which causes the auction to end sooner than it otherwise would.
Is anyone else doing this?
I think some of the other big players are trying to do more or less the same thing, but less effectively. Each of these have a Buy-It-Now to Bid ratio of less than 100% which means they could be generating more bids by exchanging. maxwell44(64%), Podewiz(73%), TexasGMen(94%). You can see a complete list of skilled DealDash users who are gaming the system by learning about this site's ELO rating.
What is this called?
As far as I know, no one else knows this is going on. I'm calling the process of using your bids to win auctions you don't want so that you can exchange them for yet more bids: Farming.
In theory anyone can start bid farming on DealDash. You can do it easily if you use the free statistics on this site to find the best auctions for getting a higher return. I think it's entirely possible to create an infinite bid generation system with only the bids in your first bid pack purchase.
With some luck you can be the next UncleTan and win whatever you like without every paying for bids again. Happy Bidding!