DealDash is a penny auction site that requires you to pay money for each bid you place on items. You are paying money regardless if you win the auction or not. There are several ways you can receive free bids, either with coupon codes, doing specific things online for Dealdash, or just by bidding.
There is a caveat, if you're hoping to bid on items for free without first paying for bids then you are going to be disappointed. There simply is no way to get free bids without first putting in your credit card (or paypal) and paying for your first bid pack. In this way you're really just diluting the cost of your bids by mixing in free bids with your paid ones. Use these tips and you will have a significant amount of bids at an overall low price, but it is impossible to use DealDash without first paying for a starter bid pack.
Use a DealDash Free Bids code
Get 100 free bids to use on DealDash when you purchase your first bid pack by clicking
Our promotional DealDash link
and using the promo code "best-penny". This saves you at least $12 in bids!
Check DealDash's Facebook Page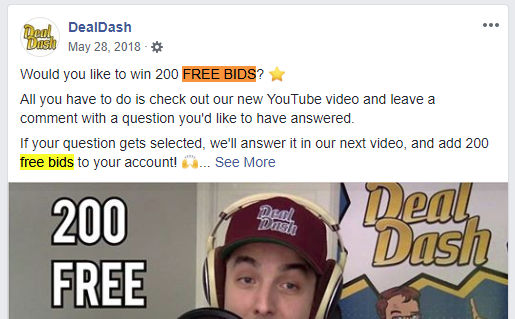 DealDash regularly updates their
Facebook Page
with offers and promotions. Mostly it's a list of new expensive products they are auctioning off but occasionally they also have competitions or social media tasks for you to do to get free bids on your account. Usually it's something simple such as liking or commenting on their content. They might also want you to take a picture or video of yourself enjoying the fruits of DealDash.com.
Fill Out Your Bio

There's an ongoing promotion on DealDash where you get an extra 3 bids by typing something into the bio section of your profile. Just put whatever you want in there as long as it's friendly and follows the rules. It will have to go through review first before you get your bids which might take a little while.
Get Free Bids by Being the Highest Bidder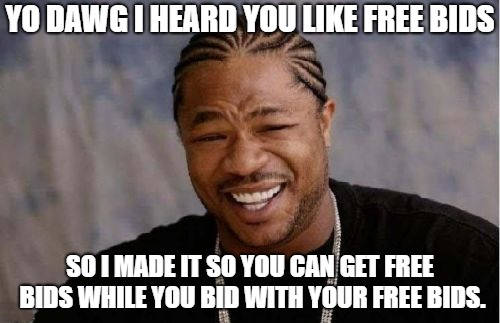 DealDash.com has a feature where you get free bids while you bid called "Time as highest bidder". Basically, you fill up a bar by being the top bidder in an auction. Each bid can only be highest bidder for a maximum of 10 seconds until you either win, or someone else places a bid. The speed the bar fills up depends on the multiplier, which changes from day to day. You only get your free bids when the bar is filled. The amount of free bids you receive depends on your "level" which goes up each time the bar is filled.

There's a few strategies to get the most out of "Time as highest bidder".
Only bid on days with multiplier. A 4x or 5x multiplier will fill your bar and level you up much faster than the common 2x day.
Avoid bidding on popular auctions early on. When you bid on an auction early, you're less likely to be highest bidder for the full 10 seconds before someone else places a bed. Wait until the auction is established and everyone is using their Bid Buddy to automatically place bids.
Win Easy Products You Don't Want and Exchange Them for Bids

There are many auctions on DealDash you can win with very few or even 1 bid. They're typically low value gift cards, clothing, jewelry, and other items DealDash clearly has a surplus of. After you win one of those auctions you can go to the Pay For It Now page and you get the choice to either pay the auction price or return the item in exchange for bids. The number of of bids you receive is usually the same as the "Buy it now" price in dollars. If you win an auction worth $50 with a single bid, you can convert your one bid into 50 free ones! There may be a limit to how much you can do this as many items you can only win once.
"Buy It Now" auctions you lost to get your bids back
You get all your bids you spent on an auction back for "free" if you buy the product at retail price. Keep in mind the retail price you'd pay to buy the product is often much more than what it could be bought on Amazon or Ebay. The bids you get back might not even be worth the difference in price, but if you did accidentally put in way more bids for an auction than you should have than this can be an easy way to get those bids back.
The Easiest Way to Get Free Bids
You get all the free bids you want when you use a different site that always lets you bid for free. DealDash is a risky business and you could end up spending more on bids than what you get back in products. There are plenty of other auction sites where you can get great deals and the bids are free, such as Ebay or
Tophatter
. Keep in mind that DealDash is just something to have a little fun with if you don't mind spending spare money. DealDash is competitive and many high-roller players will throw down thousands of bids on an auction without blinking, so be wary and just remember to have fun!